It's finally summer on the French Riviera! Even if the heat and the sun have been present for a long time, the total deconfinement marks the freedom and thus the beginning of the vacations.
Nevertheless, it is necessary to remain careful and to respect well the gestures barriers, it is for that that the ice is a pleasure which one can grant oneself in full safety.
On the spot or to go, in a jar or in a cone, with sauce or whipped cream, at any time of the day, there is nothing better than a good ice cream in summer!
There are many very good ice cream shops in our region, famous and well-known, but I decided to give you here the ones I prefer, and where I go regularly:
In Cannes : at Niva :
Niva, how can I explain it to you, it is a moment of intense and wonderful happiness. These ice creams are absolutely delicious! Made with fresh products of exception with the Italian know-how (Turin), without coloring nor additive, you can only treat yourself. The fresh whipped cream served with a spoon is to die for. On the spot (very beautiful terrace in a street which has just been entirely renovated), or to take away, if you are in Cannes you absolutely must taste it.
75 rue Félix Faure, 06400 Cannes. Tel : 09 51 13 87 34.
In Antibes: the Gelateria del Porto :
Don't be surprised to see a queue several meters long in front of this Antiboise institution. Renowned for making exceptional ice creams, we were a bit afraid of the boss's departure... we were wrong: the team that took over worked alongside him for a year, and has therefore preserved the know-how and quality that made the reputation of this place. Only to take away (there is a small bench, but I advise you to go and taste your ice cream in the old Antibes, or on the magnificent port).
4 rue Aubernon, 06600 Antibes. Tel : 07 66 32 08 74.
In Nice : at Nero's :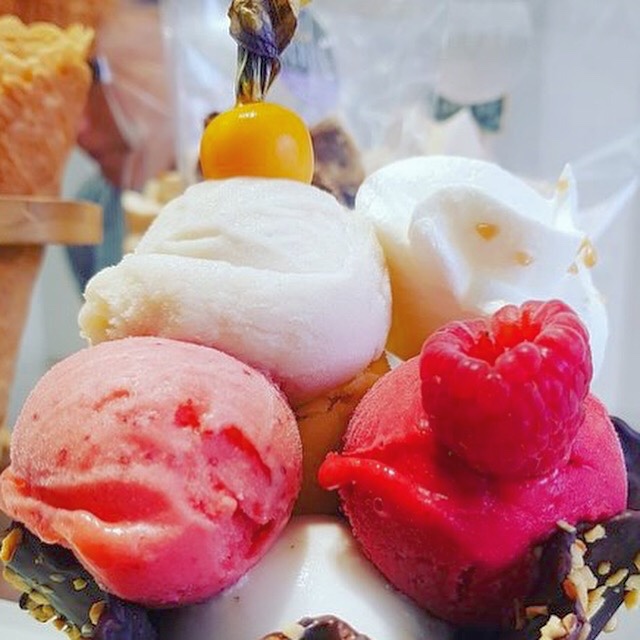 Louis Dubois invites us to a sweet and icy gastronomic journey with his subtle and delicious creations. A former pastry chef at the Ritz, Fauchon and Pierre Gagnaire's restaurant in London, he works with exceptional products that are as local as possible: lemons from our region, pistachios from Iran, vanilla from Tahiti, all without coloring or additives. The sorbets contain 70% of fruit and the cones are home made... happiness! On the spot small terrace or to take away.
15 Place Saint François, 06000 Nice. Tel : 06 56 88 03 76.
In Beaulieu: at Giampi's, the ice cream shop of the port:
Here everything is handmade, without coloring agents or additives. Creations as delicious as they are amazing, and a terrace lounge on the beautiful port of Beaulieu, to relax while enjoying your ice cream, heaven. I love the coconut sorbet, the rum raisin.
Marina, 06310 Beaulieu-sur-Mer.
In Monaco : at Santo Gelato :
Since 2007, Roberto and Nicoletta offer us ice creams made by them, only made of fresh, natural, seasonal products, and without coloring agents. They favor local producers but also exceptional products such as hazelnuts from Alba, pistachios from Bronte, or sweet salt from Cervia for the caramel. The result: delicious ice creams with an incomparable taste. On the spot or to take away, in cones (made in Monaco) or in pots, you will enjoy it.
3 Place d'Armes, 98000, Monaco. Tel : +377 99 90 87 03.
In Saint Paul de Vence : at Dolce Italia :
This small ice cream shop, with a few tables in front of it, takes us back to the time when stone, nature and artisanal products were in the spotlight. There are few flavors here, but all delicious and homemade, without coloring or additives. The Italian know-how and the charm of Saint Paul... I love it! If you are in need, a real Italian coffee will be served with a smile.
13 Place de la Mairie, 06570 Saint-Paul-de-Vence. Tel : 06 18 35 53 57.
"When I eat ice cream, it makes me think" Louis Auguste Commerson