New Year's Eve meals are an opportunity to taste products that we don't necessarily eat during the year, such as foie gras, caviar, smoked salmon, seafood and shellfish. Here are my addresses to spend a perfect and chic holiday:
Salmon: Even if some people eat it all year round, salmon is a great classic for New Year's Eve. The opportunity to buy a very high quality one.
Fjord, 21 rue François Guisol, Nice :
A Norwegian meets a Niceian and the result is a success! You will find not only exceptional smoked salmon sliced by hand in front of the customers, but also other Scandinavian specialties. Tel: +33 493 26 20 20.
La Compagnie des Saumons et Caviars, 12 rue du Marché Forville, Cannes :
A must in Cannes, and for many, the best salmon in Cannes. Smoked, farmed or wild, many choices, and exclusively the Yagouline smoked salmon, which has a unique smoking process that gives it a more assertive taste and a less fatty texture. Tel: +33 493 68 33 07.
Foie Gras : A must for the holidays! Au torchon, semi-cooked, with truffles, there is something for everyone.
Direct from our producers, 14 rue du Marché Forville, Cannes :
Here you will find the foie gras of Roger Junca, specialist of the products of the South-West since 1949. In the heart of Cannes, this agricultural cooperative gives you access to the best products directly from the producers. Tel : +33 493 30 14 64.
The home-made foie gras of the Boucherie du Col Traiteur La Corne d'Or, 98 Corniche André de Joly, Nice :
Here the motto is quality and home-made know-how. This whole foie gras semi-cooked in a cloth is made with IGP farm livers from Périgord, without coloring, without preservatives and without additives. A real treat. Tel : +33 493 01 79 41.
Foie gras prepared and delivered to your home by Chef Guillaume Olivié :
After graduating from the Escoffier school and having acquired his experience by working in the best restaurants on the coast and in London, the Chef will prepare the foie gras that suits you: a whole foie gras, plain, with truffles, with Port wine, or with champagne...you choose. Order your foie gras at least 3 days before. For more information : tel : +33 650 37 73 58.
Shellfish: oysters, gambas, lobster, products that are traditionally honored during New Year's Eve.
The pearls of Monte-Carlo, quai Jean-Charles Ray, Monaco:
Very appreciated by seafood lovers, you will find here the famous "Monte-Carlo pearls", oysters raised in Monaco, but also sea urchins, organic shrimps from Madagascar, blue lobsters and everything you dream of. Don't hesitate to reserve your tray for the holidays. Tel: +377 97 77 84 31.
Astoux et Brun's store, 3 rue Louis Blanc, Cannes :
The Boutique will allow you to offer your guests the delicious shellfish that you can enjoy in the restaurant. This famous institution is a hymn to seafood. Here everything is fresh, and the choice is amazing. Tel: +33 493 39 98 94.
Poissonnerie Les Pirates, 46 bis Bd Stalingrad, Nice :
Open since 1981, local fishing and freshness are the order of the day here. Extra fresh fish, wild fish, seafood. You will find what you are looking for. Tel : +33 493 26 00 88.
New Year's Eve poultry: Whether you choose a turkey, a capon or a poularde de Bresse, and no matter how you cook your meat, it is the quality that will make the difference.
Formia Boucherie Parisienne, 4 Bd de France, Monaco :
A know-how since 1884, exceptional poultry, here all products are chosen directly from the best producers. This butcher's shop is the supplier of the Prince's Palace, and of the greatest tables of Monaco and its surroundings. tel : +377 93 30 85 50.
Boucherie de la Tour, 27 rue Pairolière, Nice :
Highly appreciated by both individuals and restaurants, this is above all a family story. Created in 1945 by grandfather Marius, then taken over by son Charles and now in the hands of grandson Lionel, the quality of the products and the Nice tradition are de rigueur. You will be well advised to find exactly what you need for your meal. Tel : +33 493 80 63 08.
Boucherie Fabre, 10 rue du Marché Forville Cannes, 35 Cours Masséna Antibes :
2 addresses for this butcher's shop which is famous for its excellent meat. Here you will find only quality products. Quoted in international guides, a reference. Also delivers to yachts. A menu of special holiday products. Tel : +33 492 91 14 46(Antibes) and +33 626 41 25 21.
Caviar: These small rare and expensive but so good grains are invited more and more in the meals of Christmas Eve.
Caviar Kaviari, butcher's shop Formia, 4 Bd de France, Monaco :
Known by caviar lovers, this caviar is an exceptional caviar produced by a great house with over 40 years of experience. Kristal or Osciètre, you will enjoy it. To be ordered one week in advance. Tel: +377 93 30 85 50.
Petrossian Boutique, Nice Airport:
In Terminal 2 of Nice airport, the Petrossian boutique will allow you to buy all the products of the brand, but also to test them on the spot. Tel: +33 483 76 27 36.
Caviar Petrossian at La Compagnie des Saumons et Caviar, 12 rue du Marché Forville, Cannes :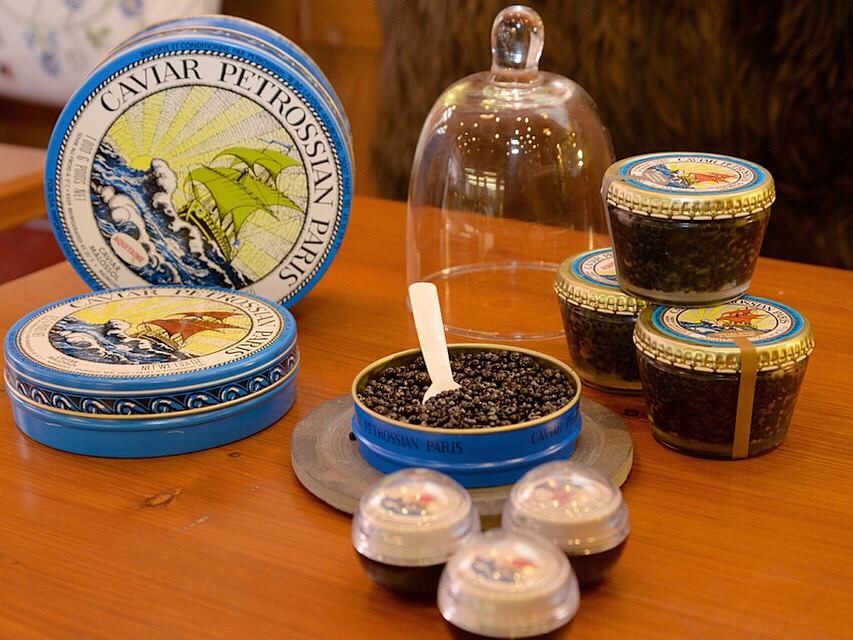 Official agent of Petrossian caviars, you can find here the Beluga Huso Caviar (the largest sturgeon in the world) or the Baïka, the least iodized of caviars. Tel: +33 493 68 33 07.
"Gastronomy is the art of using food to create happiness" Theodore Zeldin