This summer, the shirt dress is the most trendy and comfortable dress to walk along the French Riviera while singing...under the sun!
To be worn during the day or in the evening in a more sophisticated way, it is an essential in your wardrobe.
My favorites:
The flowery one at Paul and Joe's: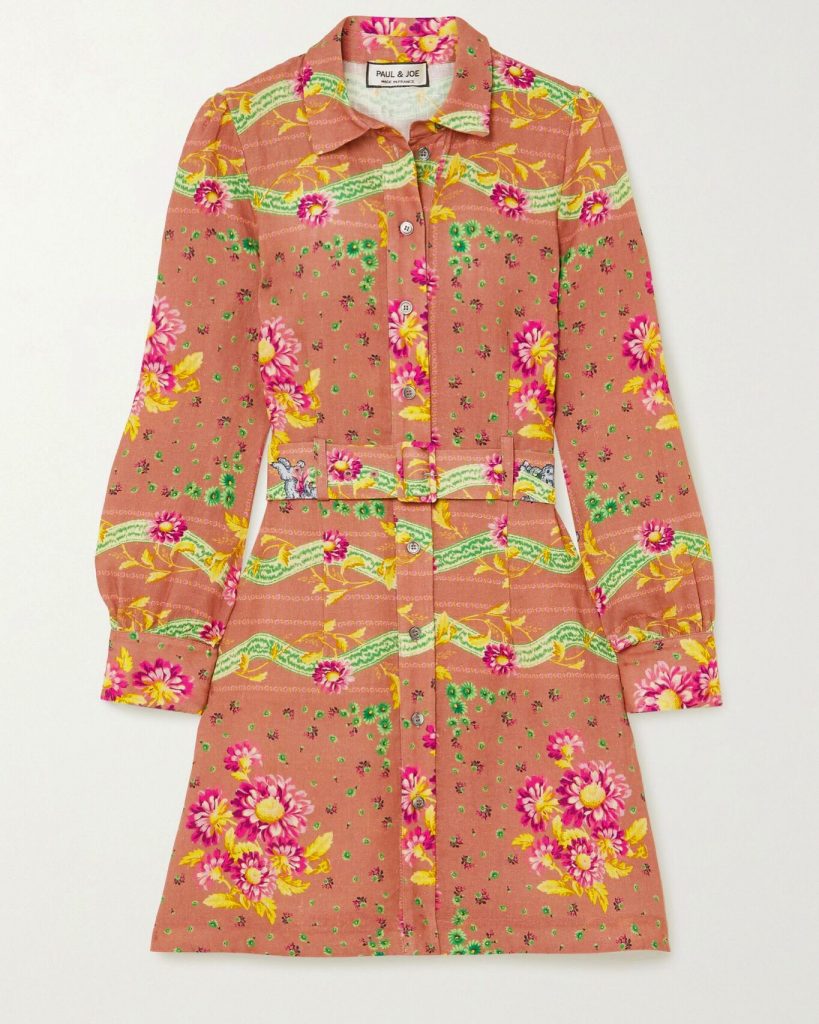 Made in France, in linen, very trendy this summer, this dress is fresh and sparkling. Sober but refined, you can wear it on summer evenings with heels, or during the day with a pair of ballerinas or even sneakers. https://paulandjoe.com/fr/femme/100476-7553-robe-courte-en-lin-imprime.html#/109-taille-34/224-couleur-caramel
The black and white at Carolina Herrera :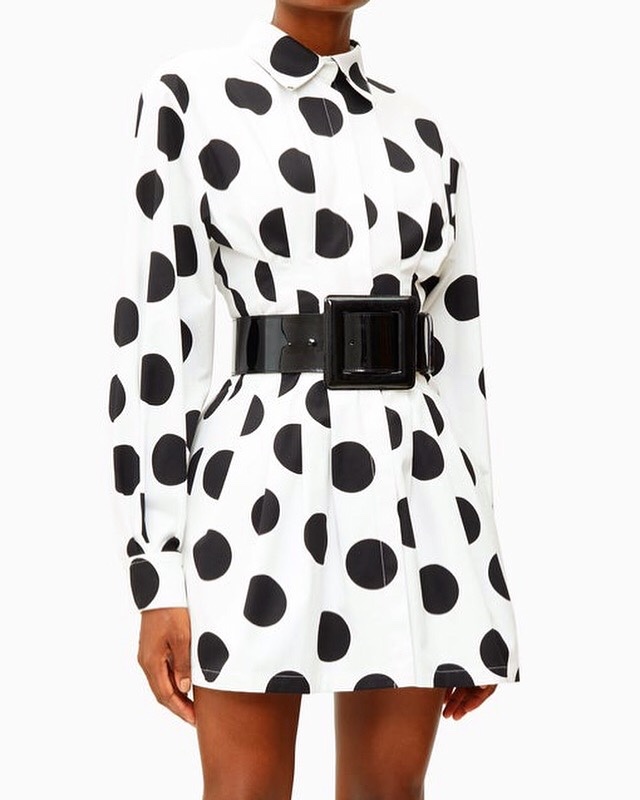 The very talented Carolina, of Venezuelan origin, offers collections in her image, sober, ultra refined, with the air of a business woman. This dress, in cotton twill, can be worn in different variations. A high price (over 1000 euros), but incredibly sophisticated. https://www.net-a-porter.com/fr-fr/shop/product/carolina-herrera/mini-robe-chemise-en-serge-de-coton-a-pois-et-a-plis/1237660
The Safari at Yves Saint Laurent:
This mini dress is the current version of the one created by Saint Laurent in 1967. Made in Italy, it is just sublime. To be given as a gift. https://www.net-a-porter.com/fr-fr/shop/product/saint-laurent/mini-robe-en-serge-de-coton-a-lacets/1210301
The zebra at the Academy:
This brand has become one of my favorites in the last few years. It offers trendy creations, easy to wear and original in materials and colors. Very appreciated by the American and London youth, I chose this dress both simple and refined, sexy also that you can wear as well in daytime as in evening with nice heels and a clutch. Light for the summer. https://www.revolveclothing.fr/mobile/lacademie-the-macy-mini-dress/dp/LCDE-WD425/?d=Womens&dvn=true
In English embroidery at Na-Kd :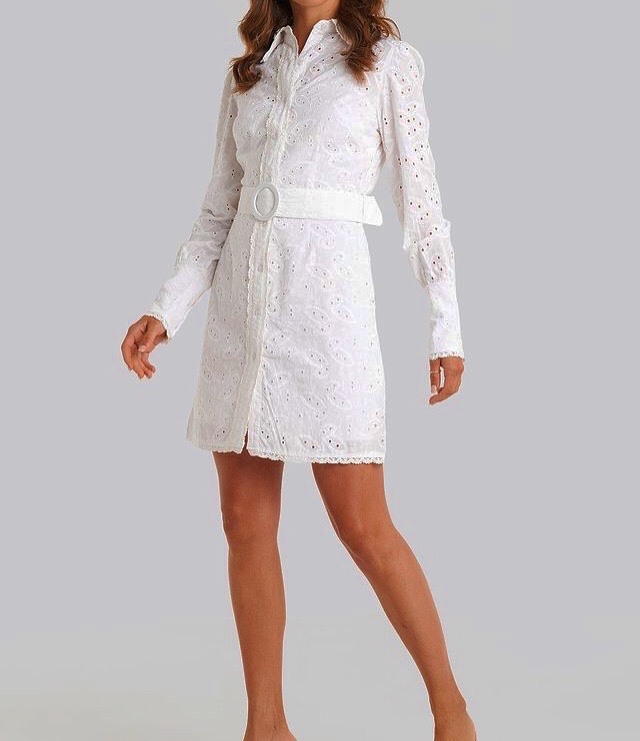 I love it for the cut and the embroidery anglaise, very trendy this summer. Easy to wear, this dress is both elegant and casual. Available in 3 colors, and costs less than 50 euros, so no need to deprive yourself. https://www.na-kd.com/fr/na-kd-boho/anglaise-collar-mini-dress-blanc
The striped one at Jason Wu:
After dressing Mrs. Obama, this talented designer continues to create models with impeccable cuts. In a beautiful cotton poplin, this dress is chic because of its simplicity and its line. You can wear it casually but also for work. The finishes and the softness of the fabric will make you want to wear it every day. https://www.net-a-porter.com/fr-fr/shop/product/jason-wu/robe-en-popeline-de-coton-a-rayures/1206342
The news paper at Na-Kd :
Original, fun and easy to wear, this dress will show you off, giving you a casual chic look. Stretchy drape detail for a flawless silhouette. https://www.na-kd.com/fr/emmaellingsenxnakd/robe-chemise-drapee-multicolore
The Metalized at John Zack:
This little sexy dress is a basic for your wardrobe. Very easy to wear, day or evening, it will highlight you thanks to its shine and its stretchy material. Hurry up before it's out of stock. https://www.asos.com/fr/john-zack/john-zack-robe-chemise-effet-metallise-avec-col-a-revers-et-jupe-froncee-or-rose/prd/14849469?affid=25471&
Bi-material at Sara Roka:
Of Canadian origin, Sara's creations are made in Italy which has the refined know-how and the noble and elegant materials. This dress is original, chic and pleasant to wear. In beautiful poplin, you will love it. https://www.farfetch.com/fr/shopping/women/sara-roka-robe-chemise-a-empiecements-contrastants-item-15226719.aspx?storeid=9877.
The short sleeve at Missguided: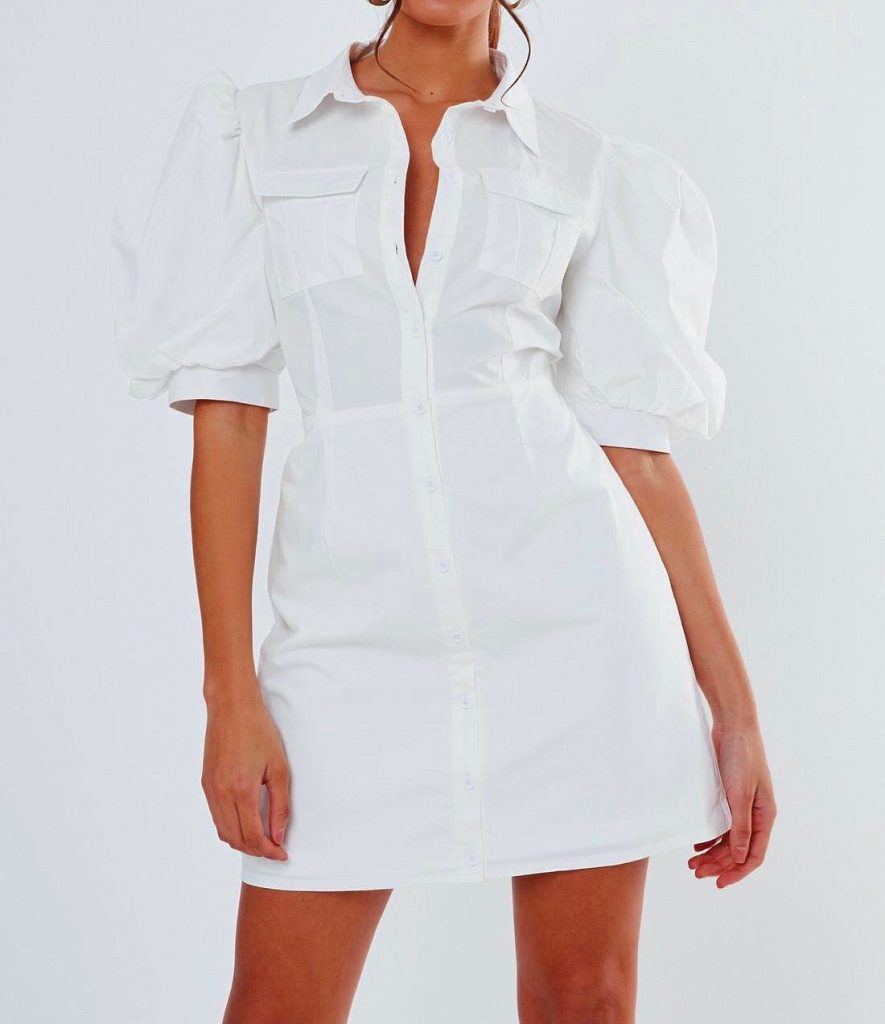 With its short and puffy sleeves, very trendy this summer, this dress will give you a sexy baby doll look. An ultra light price (less than 30€), there is no reason to deprive yourself. https://www.missguidedfr.fr/robe-chemise-blanche-a-manches-bouffantes-et-poches-10171879
"The most beautiful dresses are worn to be taken off "Jean Cocteau